Are you struggling to build your personal brand or find jobs or generate leads for your business through LinkedIn?
If yes, you must know the importance of building a professional network.
When you grow the number of high-quality connections you have, you will be able to generate leads for your business.
How about putting your Linkedin profile in autopilot mode where it drives you to expand your network and develop a healthy relationship? But how?
One such tool that helps you in automating your profile safely to reach your target audience is LinkHelp.
And the best?
You can automate the entire process with a human touch from sending connection requests to sending autoresponders for messages and comments.
Quite interesting, right?
In this LinkHelp review, I am gonna show how you can utilize this automation tool to the fullest and get the best out of it.
LinkHelp Overview
LinkHelp helps you in finding your target audience or your prospects and connecting with them. The best part is that it also allows you to send personalized invites to your audience.
If you want to become an influencer on LinkedIn and expand your network you have to connect with multiple active users.
I know it is not simple as it sounds, it involves finding and sending personalized invites to your active target audience on LinkedIn and thanking them after connecting. 
But what if you can automate the entire process?
This is where LinkHelp comes in.
You can automate tasks like adding targeted connections (active users), autoresponders, endorsing your connections, sending targeted messages, and much more.
Let's dive into the features offered with LinkHelp.
LinkHelp Review: Features
This automation tool comes with diverse of features that makes connection building and lead generation a cakewalk. Here is the list of top features of LinkHelp.
Adding targeted connections with personalized invite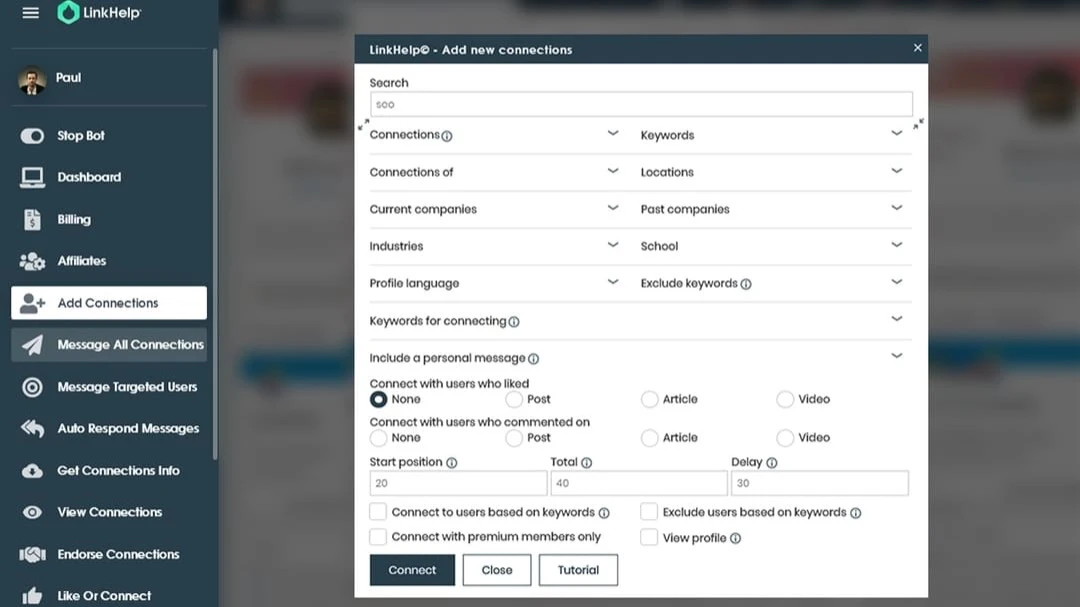 Did you ever feel that you want to establish an everlasting relationship with your like-minded people?
To make that possible, you need to get noticed by them with a personalized connection request.
To aid you in this process, this tool has multiple options to filter and send personalized connection requests to your target audience.
Ultimately, LinkHelp allows you to target your connections based on their engagement with a particular video, article, or post that relates to your niche.
Once you have narrowed down your audiences, you can send a specific personalized message to expand your network. 
In this way, you can target only active users those who are capable of engaging with your profile.
It also allows you to withdraw connection requests if the user didn't accept your connection request.
Data extraction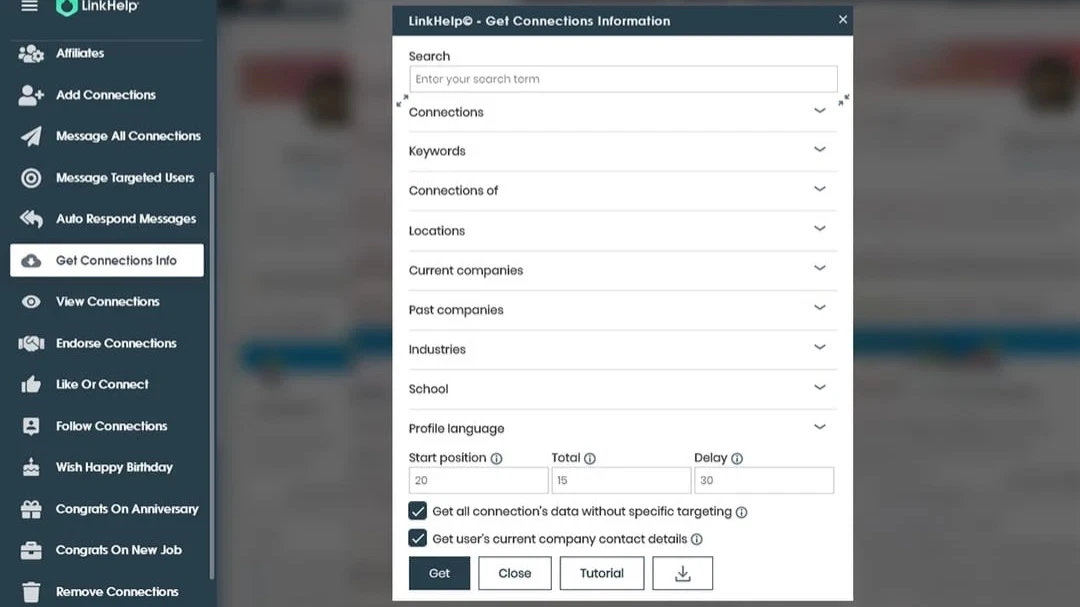 Want to spice up your game for lead generation?
Here comes the powerful lead generation feature of LinkHelp. It works with the help of a Chrome extension. 
Once enabled, you can get the username, phone numbers, and mail addresses of your prospects. And these data are inevitable for your cold mail campaigns.
Auto respond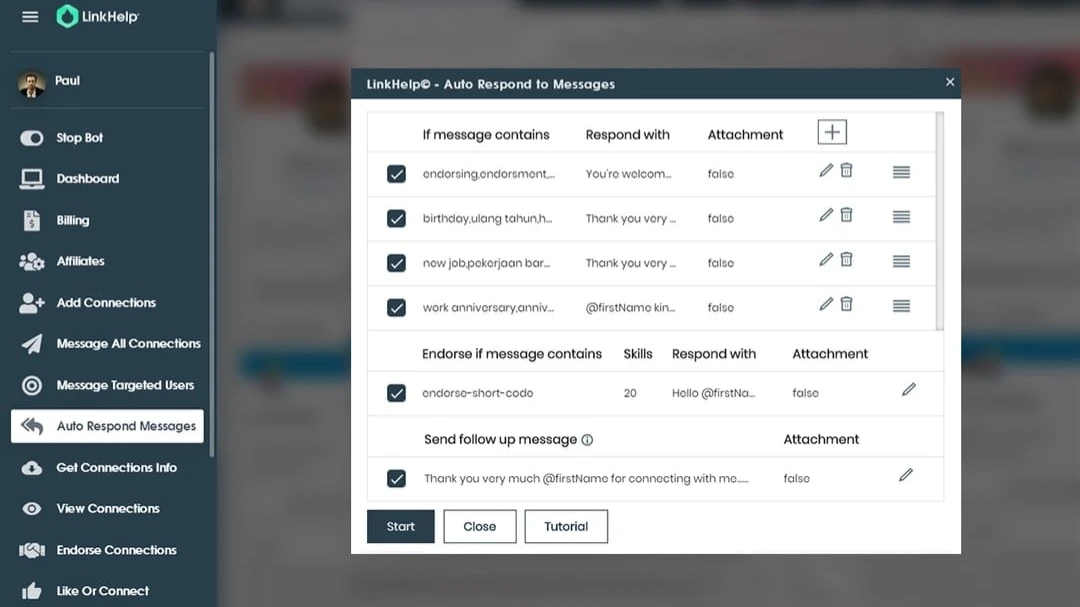 It may be a busy day in which you are not able to interact with your connections. Given that you are high on the hierarchy, people will expect you to be always online.
The solution?
Set auto responders!
LinkHelp allows you to set auto-responders with selective keywords.
For example, if someone endorses you, you can set an auto responder to thank them in their inbox. 
It also works on follow-up messages while you are hunting for clients or job roles. You can also send wishes if someone gets new job roles or for their achievements.
Engagement
If your network is huge, it will become difficult to interact with all their posts.
LinkHelp also provides the solution for this issue. It helps in leaving Likes on their posts and comments on your posts as well. 
Follow
You can automate the process of following people who actively post and have a huge audience base to expand your network.
Campaign analysis
How do you know whether things are happening on their perfect track?
The campaign analysis dashboard helps you in this. You can analyze the performance on a daily/weekly/monthly basis to enhance each campaign.
Safety limits
If LinkedIn suspects that you are using automation on your profile, you will be suspended.
By keeping in this mind, LinkHelp suggests to you the safety limits on how frequently you have to add connections, how many connections to be added per day, and a lot more.
Video tutorials
LinkHelp has short video tutorials that explain how to operate all the features available with them. Once you understand the process you can be able to set campaigns or automated tasks in just 30 seconds.
Plethora of filters
It comes with a plethora of features that you can set keywords such as company, language, location, industry, post liked or commented, keywords in profile, 1st-3rd degree connections, and much more.
You will get a clear picture if you start using the tool.
Endorsing connections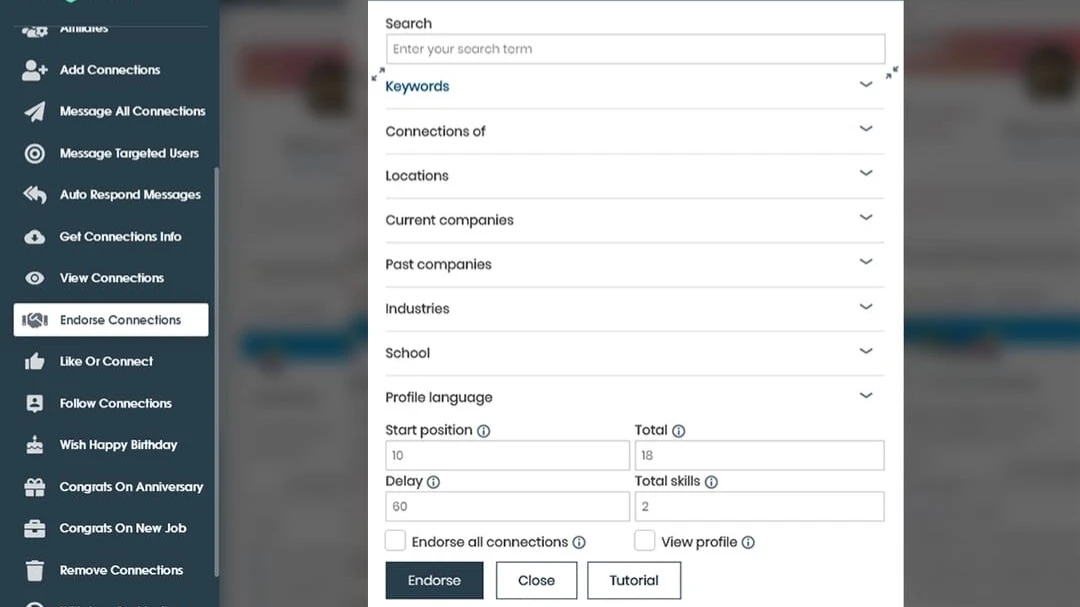 With this feature, you can automate endorsing your connections on some frequency to establish a healthy relationship with them.
LinkHelp Review: How to get started?
You can start traveling your LinkedIn journey with the autopilot mode of LinkHelp within a few steps. All you need is a chrome browser.
Signup for the perfect pack that you are looking for.
Add the extension to the chrome browser.
Log in to your LinkedIn profile.
Enable the extension.
It will show a sidebar on the left part of the screen.
There you can manage the entire dashboard.
Note: It works only when you log in to your LinkedIn profile on the same tab.
LinkHelp Review: Pricing
Go with the free plan if you are just starting. The free plan has only limited features where you can only add and engage with the connections.
If you are just starting out, I suggest you explore the free plan and upgrade to the Lite plan if needed. However, if you already have huge connections or followers, start with the Lite plan.
Subscribe to the Lite plan on yearly basis to save more. To help you save even more on your bucks, I am giving the promo code KANI30.
You will get around a $30 discount on any yearly plan by applying this code.
Note: With all the plans you will get access to all updates and dedicated support.
LinkHelp Review: Lifetime deal access
As you can see, the pricing for a year is as high as 249/year if bought directly.
But Appsumo is running a lifetime deal for LinkHelp, where you can buy LinkHelp at just 49/year.
You can enjoy all the features without any restrictions and with utmost safety. If you aren't satisfied with the purchase, Appsumo also offers a 60-day refund policy without any questions.
The only negative thing is that the lifetime deal can end anytime on Appsumo, so grab yours before it vanishes!
Wrapping up
Overall, LinkHelp has several good-to-features to consider. This tool allows you to schedule messages, responses and follow-up messages, as well as endorse businesses or send birthday wishes.
You can even use the tool to add highly targeted audiences. It's easy to use, and gives you the control you need over different features that help you build your connections.
Have any opinions about this automation tool? Leave your thoughts in the comment section.