Lead generation becomes the first ingredient when it comes to business growth. Increasing leads denotes the reach of your brand to maximum people. If your lead generation strategy plays well, you can create a strong relationship between the users and make them invest in your product or service for the long run.
Are you done with creating some awesome lead generation strategies that are tailored to increase your head awareness? Even if the answer is no, you will grab a strategy here.
Leads for business can be generated in tons of ways. However, creating a strong lead magnet and designing a sales funnel is a long process and requires critical thinking to establish a powerful lead magnet and funnel.
What if I say that you can create leads with your blog alone!
Great right? Yes, it is possible to create leads with your blog and you can simply convert your quality visitors into leads with simple tactics.
Let me show you how!
How do lead generation strategies work?
A lead generation strategy pulls most of the users who have shown interest in your brand and are ready to take action with you.
Leads are commonly grouped into three types. They include cold leads, warm leads, and hot leads.
Cold leads refer to the people who don't show interest in your product or brand. Warm leads are the people who know you before and they would trust your brand. Hot leads are those who know your brand well, gain trust, and are ready to buy products or services from you.
Your lead generation strategy will pull the cold leads and drop them to a sales funnel and convert them into hot leads to make conversions.
Lead generation strategy starts from creating a strong lead magnet (which is almost free) and attracting the users to drop them to sales funnels.
Once the cold leads are subjected to sales funnels, the funnel should educate them and nurture them about your brand. They will be converted to warm leads and hot leads!
I know, it is not a thing that happens overnight, but to make a sale, we have to run a long way!
Make strong lead generation strategies using a WordPress plugin
When it comes to a lead generation strategy that mainly concentrates on converting website traffic to leads, there is no better option than pop-ups.
Also, some people like me, feel like the pop-ups are the most irritating factor that comes annoying while reading the blog.
A recent report suggests that about half of the blog readers are converted as leads when it comes to pop-ups.
To retain your users and not annoy them, you have to create effective pop-ups that should be crafted for capturing mail IDs.
In order to create a powerful pop-up, you can use the famous WordPress plugin known as Optinly. Optinly comes in both free and paid versions.
Why use the plug-in?
While optinly is essentially a lead generation tool, it is not only meant for that. Unlike other pop-up builders, with Optinly, you can personalize the pop-up, and it helps to increase the number of users who visit the site to generate leads.
You can check individual pop-up stats and their conversion rates to find a better way for better conversions.
Ok, let's see the type of pop-ups that can be made on Optinly to convert the users to leads.
Create customized Pop-ups to enhance lead capturing
Full-screen overlay pop-ups
Most of the businesses and popular marketers are adopting this pop-up type. When the pop-up is shown on a full screen, they either have to close the pop-up or take an action.
If you have crafted the pop-up with compelling freebies or information, they will be sure to take the action without closing it.
In most cases, these full-screen pop-ups are shown at selected intervals to keep the user comfortable while reading.
Spin the wheel pop-ups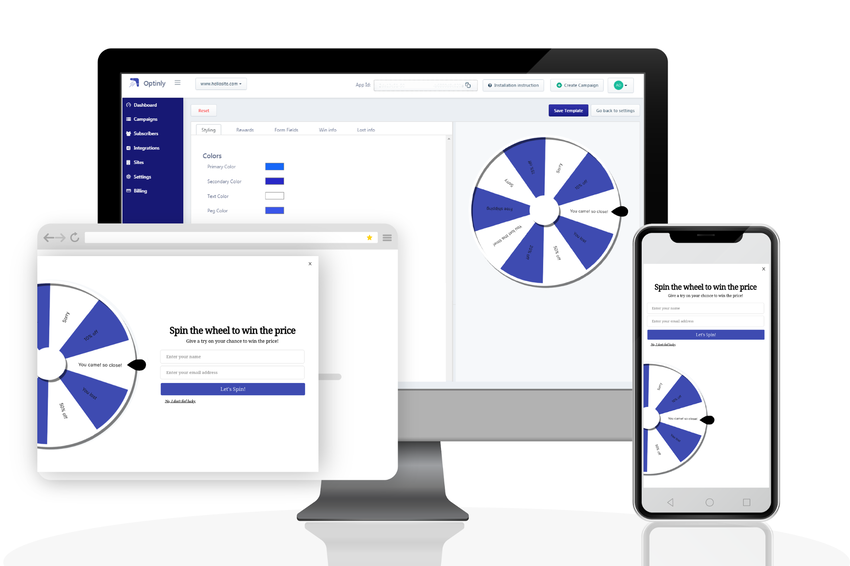 Whenever a spin wheel pop-ups in front of me, it provokes the child in me and forces me to spin the wheel for no reason!
You may relate to this, as most people love playing games rather than giving their personal information in exchange for some information.
Soon the wheel pop-ups are becoming more popular, as they instantly grab the user's attention and most of the users would love to spin the wheels.
These kinds of pop-ups can be focused on giving discounts or freebies or even can be "better luck next time"!
Floating bars
Floating bars are just similar to the sidebars which are shown in the blocks without annoying the readers.
Optinly offers multiple sidebar templates that you can simply use without any coding and helps to grab users' attention without annoying them with popups.
Exit-intent pop-ups
This kind of pop-up will only rise up if the user decides to leave your site. Marketers suggest this kind of popup is the best as the reader doesn't get annoyed while reading and most of the readers would like to read the content available in your pop-up.
Notification pop-ups
Ever noticed any pop-up stating, "Grab your 50% off". Yes, I do!
These kinds of pop-ups are helpful to notify the new readers about your discounts, new launches, or even new blog posts!
Advanced triggers for more leads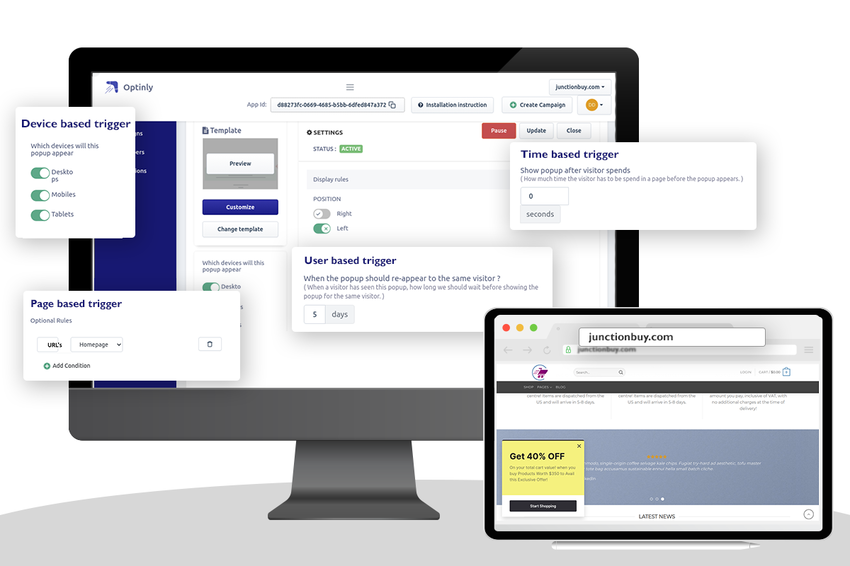 Advanced triggers are quite amazing, as they can create quality leads which is an important part of your link generation strategy.
Time-based triggers
As the name suggests, these kinds of pop-ups rise only if the visitors stay in your blog for a specified time.
It is always better to create a time-based Trigger so people don't get annoyed when they see a popup after a couple of seconds while landing on your page.
Page based targeting
Targeting is a crucial part of your link generation strategies!
Page-based targeting allows you to customize the triggers and pop-ups to appear on selected pages.
No one wants to show a pop-up on their service page, right? In this case, you can use this feature.
Device-based targeting
Customizing purposes based on the device is also possible with Optinly. You can create pop-ups only on mobile devices or only in desktop versions.
It increases the conversion rates and you will get more leads.
Interactions targeting
This will enhance the user's experience with your brand, as it helps you to show popups based on the user's interaction with your website.
For example, you can stop the pop-ups only to selected visitors who have subscribed already.
Creating thumb-stopping pop-ups
The main motive of your lead generation strategy is to create quality leads and not the leads which are worthless, right?
To get quality leads, you have to tailor your pop-ups with convincing triggers or information.
Well, how to do it?
Optinly has the answer for it! You can build awesome pop-ups and you can even refine your existing popup with Optinly.
You will get options to edit the typography or color of the text.
Play with the city with psychological colors and customize it with specific URLs.
Customize the designs of the pop ups and change the image colors and tones.
You can edit any part of your popup in seconds without any loss.
Similar to other pop-up plugins, Optinly also offers a preview before publishing your pop-up.
Integrations
Optinly is not only restricted to your website and you can also connect this Optinly with all your marketing services like convertkit, Mail chimp, Sendinblue, Hubspot, Get Response, and much more.
Pricing of Optinly
For all the interesting users, Optinly offers two plans.
Free plan(lifetime access without any credit card but limited features)
Growth plan- Starts @25 dollars per month.
Lifetime deal for Optinly
Appsumo is currently running a Limited Optinly lifetime deal where you can grab this revolutionary pop-up builder for a lifetime with a single payment of $59.
Sounds good right?
You need not spend $25 for every single month, all you need is $59 for your lifetime lead generation!
A good part is, once you have purchased it, you can use it across 5 different websites without any additional expenses.
I would highly recommend going with Optinly if you are a marketer or an agency owner!
Verdict
Lead generation strategies are simple to formulate if you have the right tool with you. You can acess 70+ premade templates with Optinly which are tailored to trigger the users and convert them to your leads. The lifetime deal of the Optinly is about to end soon, so make use of it within the deadline.
You can also use the lead generation strategies with any other pop-up builder and see the results.